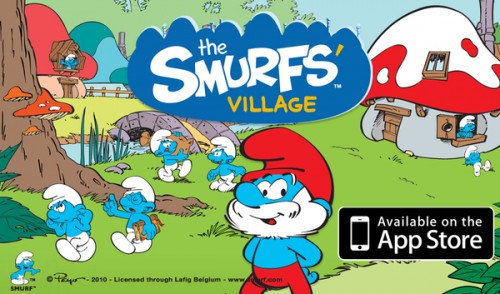 La Laa La Laa La Laa !! The Smurfs ARE BACK !! Sing a HAPPY Song !!
Capcom has just released Smurfs Village for the Apple iPhone, iPod Touch and iPad available for FREE from the App store.  For all you Smurf fans out there you'll be glad to know that Capcom have made sure the game is based on the original cartoon and comic art. 
The Story goes likes this :  Gargamel found the Smurfs' village and scattered the Smurfs far and wide. With Papa Smurf's guidance, it's up to you to build a new village for the Smurfs to call home.
Players begin the game with only a single mushroom house and a lone plowed plot of land. From there, things quickly progress, allowing players to build specialized houses, elaborate gardens with colorful crops, bridges to span running rivers, trodden paths, and more.
Features:
– Creativity is your only limit, build a complete Smurfs' village from scratch
– Play with your favorite Smurfs including Papa Smurf, Smurfette, and Jokey Smurf
– Play mini games like Greedy Smurf's Baking Game, Papa Smurf's Potion Mixing Game, and Painter Smurf's Painting Game and unlock additional bonuses
– Connect with friends through Facebook and send gifts to your friends' villages
– Play offline… manage your village anytime without having to connect to the internet.
– Retina display graphics
I can't wait to kick Brainy Smurf out into the forrest as he'll probably annoy the crap out of me as he did in the original caroons !! 🙂 
As Smurf Villiage is Free there is no harm in trying it out.  Click on the link here to be taken straight over to the App Store.
Stay tuned for our review of the game very soon.