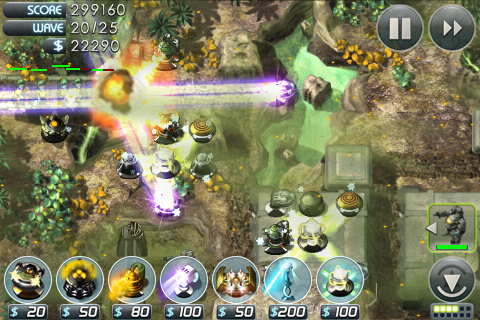 The latest addition to Origin8's popular sci-fi strategy game, namely Sentinel 3: Homeworld, has just been approved by Apple hours ago. This latest installment of the award winning Sentinel tower defense series includes many improvements from the previous versions and also some of the most requested features by Sentinel fans. Check out the huge list of features below!
New in Sentinel 3: Homeworld:

– A completely new campaign featuring 20 levels across 14 distinctive and demanding maps.
– A powerful new Commander unit which can level up and gain customizable stats and abilities as you play.
– Over 20 unlockable turrets, orbital ship weapons, automated drones and abilities at your disposal.
– Customize your weapon loadout in the Armory to match the demands of the mission.
– Stunning graphics and effects, with full high-resolution Retina display support.
– Endless modes for all maps with online highscores.
– Classic mode allows you to compete for scores in a pure skill-based game mode.
– Support for social gaming networks for achievements, global scores, friends and more using OpenFeint and GameCenter.
– View strategic layouts from the leaderboards – see how the best players think (OpenFeint required).
– New exclusive music by the creators of the Sentinel 2 music – Specimen A.
– Completely reworked and revamped game engine for optimal performance on all iOS devices

Classic Sentinel series features:

– Specialized structures and units provide unique tactical gameplay.
– Use the landscape and destructible defenses to maximize the effectiveness of your weapons.
– Unleash the Sentinel's incredible ship weapons system – if you've got the power to do so…
– Deploy mobile attack drones to harass the enemy and augment static defenses.
– Construct boosters to buff your offense, and upgrade to top-tier towers for devastating special moves
– Resource harvesting and interest system adds a new dimension of risk and reward.
– Visually stunning environments, towers and enemies with fluid zooming and scrolling.
The game will due on the App Store worldwide with less than 24 hours to go at $3.99 (and equivalent amount in other currencies). While you wait, check out their previous releases, Sentinel 1: Mars Defense and Sentinel 2: Earth Defense. Both are great tower defense games at $0.99 that you wouldn't want to miss. Enjoy the video trailer and stay tuned for an in-depth review of the game soon at Capsule Computers!