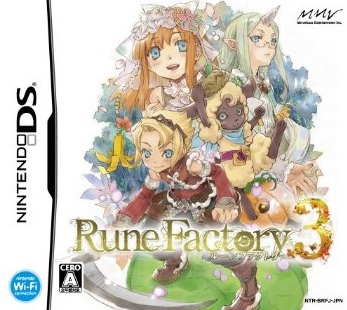 I think everybody is aware of Black Ops launching, but one game that definitely deserves some attention is Natsume's latest entry into the Rune Factory franchise, Rune Factory 3: A Fantasy Harvest Moon. The harvest moon/action RPG is now in stores today with many new features and an updated battle system.
Natsume released this statement in celebration of the launch:
"Rune Factory 3 delivers one of the deepest and richest gaming experiences you'll find on the Nintendo DS!" said Hiro Maekawa, President and CEO at Natsume. "You can farm, cook, craft items, battle and tame monsters, and conquer multiplayer dungeons with your friends. However you want to play, the world of Rune Factory 3 is yours to explore!"
Taking control of Micah, an adventurer who is half human and half monster, players will have to unite the humans and the Univir in time to stop the growing evil force that threatens to destroy them both. As well as collecting rare items and having fierce battles, you can also befriend villagers that will lend you their skills in battle.
It goes without saying this game is looking great and worthy of the already much loved and highly successful harvest moon franchise. Check out the trailer below and if you have a Nintendo DS this title is surely worth a second look and as mentioned, is now available.