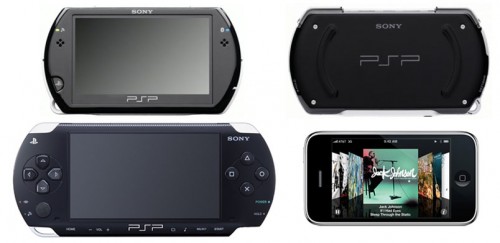 Click the above comparative image to see the new Playstation Phone
The Internet has been rife with rumour the last few months on the possibilities of either a PSP2 a Playstation Phone or some sort of eclectic hybrid of both. We are happy to announce that rumours now appear to be fact, as the popular site Endgaget have leaked the specs of their acquired 'Playstation Phone' collaboration between Sony and Ericcson. The question remains, is this also the long awaited PSP 2 as well as next gen smart phone?
Below are the specifications:
– The Operating system appears to be Android 2.x complete with it's own app store
– 1GHz Qualcomm MSM8655 processor
– 512MB of onboard RAM, with a microSD expansion slot (which is comparable to an iPhone 4 )
– Standard Playstation buttons, shoulder buttons and DPAD
-3.7 – 4.1″ Screen
Internally it appears that Sony is referring to the device as codename: "Zeus". Of note is the neat flat silver space between the two sets of buttons…turns out that is your touch sensitive multi-touch solution to two thumbsticks.
Despite the reasonable size of the device, there is something to be said for the multi touch android phones that already exist, and without all the shoulder DPAD and Playstation buttons to boot. It's neat the Sony has finally solved the PSP dilemma of only one thumbstick, but this reporter wonders weather it will matter when it finally comes to gaming.
This is all that is known at the moment- it is unclear if the device offers feedback, rumble or even where the sound output is (presumably on the back)
Although Sony officially refused to comment their Chief Financial Officer Masuru Kato has been quoted (via translation) as saying: "As for the new PSP product, as mentioned, I know that you are not asking me to tell you when we will be coming out with a new product, but there is a gaming market based on [the] cellphones, and there are many changes that are being seen [with] Nintendo, as well as ourselves, in the field of the product for the gamers. And there are smartphones and others or even cellphones gaming markets are very popular here in Japan. So the market itself is very… expanding."