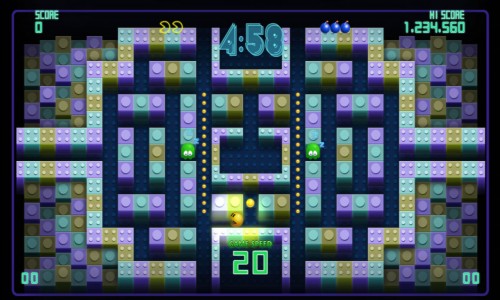 Remember the days when Pac-Man was just a yellow guy that had a few colored ghosts chasing him around as he ate everything that sat in front of him? Well those days are gone but not forgotten. Because with Pac-Man Championship Edition DX, you will have your choice of being able to change your visual style to however you want to.
From appearances it looks as though you may be able to play as the good old classic Pac-Man, a revamped 3D looking Pac-Man, and even some psychedelic looking areas. It's always good to spark a bit of life into good old Pac-Man with some fresh coats of paint. But that isn't all because this new Pac-Man will feature a handful of new game modes that show sleeping ghosts that wake to your presence as you pass near them, and even a mode where quite a large number of ghosts are trying to take you out.
Unfortunately there has been no word from Namco Bandai as to when we will be seeing Pac-Man CE DX show up for purchase. One thing we do know however is that it will be available on both the XBLA and the PSN, so better get amped up for some Pac-Man fever.