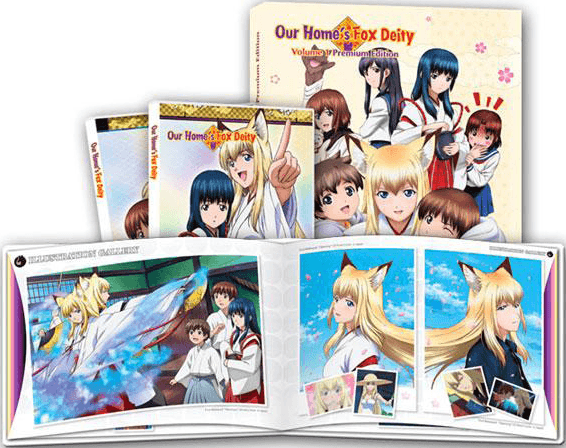 Anime fans will be happy to know that NIS America has released Our Home's Fox Deity to a few online retailers already. Though instead of just a simple DVD case they have released the Premium Edition of the first 12 episodes of the series. It contains not only two DVDs with the episodes on it, but a 32 page hardcover artbook that has all of the characters' introductions, an illustration gallery, and a handy terminology guide for the show within its pages, plus a fancy box to look great on your shelf.
Our Home's Fox Deity will have the original Japanese audio with English subtitles and features the Takagami brothers who are being protected by a fox spirit known as Kugen. Also helping protect them is a very sheltered shrine maiden named Ko who lacks knowledge of the real world. Sounds interesting already, but throw in the fact that countless demons are trying to kill the Takagami brothers. This leads to many different battle sequences that has not only fantasy elements but Japanese Mythology mixed in, which means that terminology guide will definitely be useful for those that could be confused by some things that they see.
Our Home's Fox Deity Vol. 1 is available from online retailers: Right Stuf, The Anime Corner Store, Anime Pavilion, Anime Castle, and NIS America's Online Store.