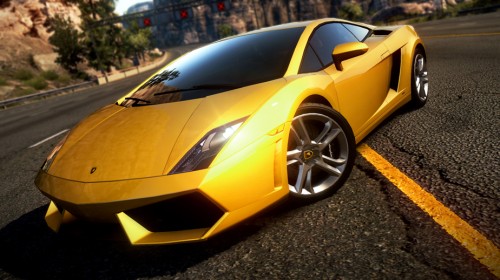 November 16, 2010.  Remember that date.  On that day, DO NOT leave your car unattended or with a valet.  Especially if you own a Lamborghini.  You do own a Lamborghini, right?  This is fair warning from EA then, as most valets will be too busy playing Need for Speed: Hot Pursuit to worry about a lousy car.  After all, why bother driving one Lamborghini when you can drive any car of your dreams, even cop cars?  Exactly, there is no point.
The video embedded is the first in a series of trailers detailing exactly whats gonna happen to that fancy sports car on November 16.
In this linked video, our villains, the valets, make their introduction.
So what happens when you have to park your own car? This video explains.
Now that you have been fully terrorized, this video can help calm you down.  It will help explain the demo, and tempt you to try the valet's deadly adddiction.  However, on this once in a life time oppurtunity, you can say "YES" to speed.
Now we go to Austin, and wish that we lived in a big enough city for EA to throw a bash there….that might just be me though.