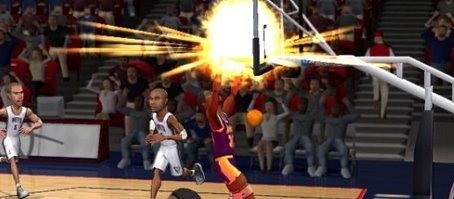 Boom Boom Boomshakalaka! YEA! NBA Jam is now out for the PS3, Xbox 360 and Wii. With  online play, HD graphics and all sorts of unlockables and extras, this looks like a a really cool remake of a really cool arcade game.  Some of the extra stuff includes playable politicians, mascots and boss battles against basketball legends.  Plus, you have a sports announcer that says really funny stuff.  What more could you ask for?
Don't take my word for it though.    There is a trailer just beneath you.  Yes, right there.  No, over to the center.  Now the right.  There you go.
Have you bought or tried the game yet?  Give us your thoughts on the game!