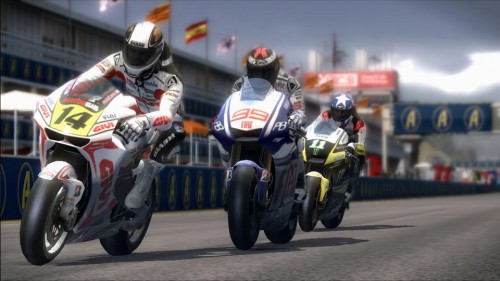 Earlier today Capcom announced that they are bringing MotoGP 10/11 to the PS3 and the Xbox 360 sometime in March of 2011. After being developed by Monumental Games MotoGP 10/11 will be giving players all the content that is available from the MotoGP series of 2010, and will be also provide update DLC for free when the 2011 MotoGP series begins.
MotoGP 10/11 will be bringing five different modes of gameplay for players to experience, such as: Championship, Time Trial, Challenge, Career and Online Mode. The online mode is especially impressive by being able to support 20 different racers at once each competing for the number one spot. If you are interested in racing with a friend you will have that opportunity in Career mode for the first time as well. This is accomplished by an easy jump in system that places your friend in a split screen and allow you to team up.
More has been changed other than the game modes however as MotoGP will now sport an improved physics engine and handling system that will make the authenticity level reach a height that players have never seen before. Put this together with the ability to customize your bike and racer to fit your style perfectly. You can even switch on an assisting mode if you happen to have trouble with racing itself.