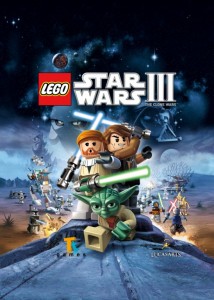 Lego Star Wars III: The Clone Wars is all set to release next year and will include characters from the animated television show and the rest of the Star Wars universe.  With the feature list announced so far, this may be the best Lego game yet.
Over 60 missions and levels
A new story that will hopefully actually be new and not just a rehash like in past Lego games
Ground battles that will allow you to take BATTALIONS of trooper into combat and build bases, deploy vehicles, etc.  I don't know about you, but I always wanted to have a massive Lego army.
In what I am thinking is a totally new addition, SceneSwap is "a new feature allows players to take control of multiple teams in separate locations. Working together to complete various objectives, players will control each team through the press of a button, while playing in single player or in multiplayer co-op modes."
Space battle with your favorite Star War's spaceship through multiple levels of space.
New abilties like lightsaber cutting, lightsaber throwing, and lightsaber climbing and new grappling maneuvers.   Also there will be Force powers.   Plus new Clone accessories like weapons and vehicles.
New graphics, lighting and split screen.