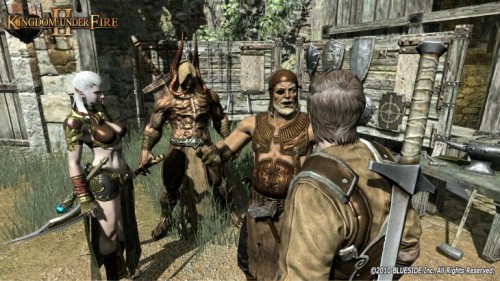 Blueside's upcoming MMO Kingdom Under Fire II has just been announced for the PS3. Sure it may have already been announced for a release on the PC and the Xbox 360 in the past, but now it will be making its way to the PS3. This news comes out of a joint press conference with SCEK (Sony Computer Entertainment Korea) at Pusan's G-Star 2010 event.
The PS3 version will be coming with exclusive missions and characters as well as an optimized gaming engine that will take advantage of the PS3's graphical processing power and display graphics at the same level as a PC at max settings. The game itself is set for release in 2012 on the PS3, with the PC and 360 version sometime in 2011.
The reasoning for choosing to release the game on the PS3 as well was stated by Blueside CEO Sejung Kim, saying "because PS3 offers many possibilities considering the aspects of an MMORPG that requires continuous updates." The game will be seeing a worldwide release, and hopefully will make up for the poor criticism the last Kingdom Under Fire game received, though that one strayed far from the proven formula.