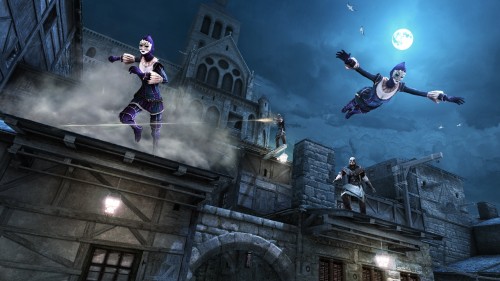 Ubisoft has announced that they will be bringing out DLC to Assassin's Creed: Brotherhood for the first time and it is coming at the price of free. Yep you heard it right the upcoming DLC will be entirely free. But what will said DLC come with? Well unfortunately nothing new for the single player mode but it does bring with it a couple of add-ons for the game's multiplayer mode.
Being called the Animus Project Update 1.0 and with a December 14th release date on the 360 and PSN it will include a brand new game mode that is called Advanced Alliance. Unfortunately it isn't exactly brand new as it is more or less Alliance Mode but given a harder difficulty. The reason that it is harder is because rather than two teams, it will consist of three teams of two assassins competing.
Another addition is the incorporation of a brand new map to do your assassinations on. The new map will be called Mont Saint-Michel and is "located on a rocky tidal island of Normandy in France." The map will feature narrow streets with tall bell towers and a multi-leveled design which means plenty of assassinations will be of the aerial variety.
Sebastien Puel the executive producer of Ubisoft Montreal had this to say about the DLC:
"We are very thrilled to be able to offer the first Multiplayer DLC for Assassin's Creed Brotherhood for absolutely free. We wanted to say thank you to our fans for making Brotherhood such a huge success its opening week. We are very proud of the unique and innovative Multiplayer mode it offers, and hope the fans enjoy the new content."