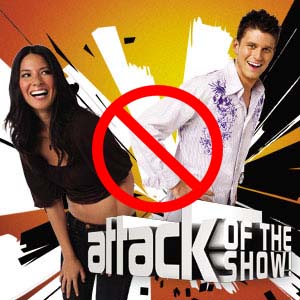 Last week the gaming/nerd culture channel, G4, was dropped from satellite TV provider, DirecTV.  On the outside, this may seem like a dire blow to the gaming community, but interestingly enough, this is not so.
G4 had originally started out as a more "indie" and "true" nerd channel, named TechTV, previously being hosted by internet legend Kevin Rose, creator of popular news and pop culture aggregating website, Digg.  When it started out, the channel had shows like ScreenSavers and the Electric Playground, with Kevin Rose giving real tech advice (often for the more tech savvy viewer) on day to day problems for the former and game making legend, Tommy Tallarico, weighing in on the various games that were being made and coming out for the latter.
As the channel's popularity grew, so did it's need to break out of the "niche" audience and attract the less tech savvy, everyday person, more on the order of what Spike TV does.  Using TV "celebrities" like Kristin Holt and Olivia Munn, G4 became moderately popular, building shows around funny videos from Youtube and doling out the periodic tidbit of news that would be relevant to the channel's new demographic.  Unfortunately, amongst all of this, the constant and monotonous rerunning of the show, Cops, (and various variations such as Campus PD) have become synonymous with the channel.  Nowadays if you turn on the channel, you can bet that some form of Cops will be on for several hours at a time.
A DirecTV rep was quoted today saying, "At this time we are no longer negotiating and we have no plans to put G4 back up…Since G4 is among the lowest rated networks based on the latest Nielsen data, we decided that it made sense to focus on preserving programming that is more relevant to our larger customer base.".  Sadly, this isn't that surprising.  I, personally, loved the channel back in the day and even for a bit of its newer lifestyle, but I honestly haven't watched the channel in at least 2 years, due to a combination of now having seen every Cops episode at least 4 times and generally not caring about the uninspired cashing in on today's pop culture that the channel thrives on.  G4 was quoted saying, "We have been trying to engage DirecTV in fair and reasonable discussions to continue to carry G4. G4 offered DirecTV the same basic deal we have had for the past three years. However they still plan to drop the network and deny G4 fans the only network that focuses on the popular gaming lifestyle."  While this may not be a dire blow to the general gaming community, it surely is for G4.  Barring my opinions on the channel's quality, the fact that G4 is owned by Comcast, a huge rival to DirecTV, MAY have a hand in all of this.  Just sayin'.