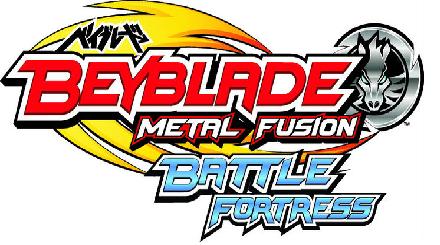 A while back, we told you about the collector's edition for Beyblade: Metal Fusion – Battle Fortress coming to the Nintendo DS. You may have also noticed that Nintendo Wii owners were kind of left without a special edition….until recently anyway. Hudson has now announced that there will be a limited edition of Beyblade: Metal Fusion for the Wii joining it's DS counterpart when it releases next week.
The limited edition will include a special DVD including a full-length episode titled, "Merci's Dangerous Trap" from Beyblade: Metal Fusion with art unique to the disc. The special DVD will be exclusive to the limited edition BEYBLADE: Metal Fusion – Battle Fortress from November 9 until January 10, 2011, or until supplies last.
Here is a brief look at what this episode contains for any Beyblade fans out there:

In "Merci's Dangerous Trap," which aired in the first season of BEYBLADE: Metal Fusion, Doji sends Kyoya to Wolf Canyon to prove his readiness to battle Gingka. Meanwhile, Gingka is lead to believe that he is on a television game show by Doji, who has pitted Gingka against the computer "Merci" to test Gingka's skills and collect data. Kyoya eventually makes it to the top of Wolf Canyon – and is ready to battle Gingka.
Now as for the game, it is shaping up nicely with a complete game-specific story with the original characters from the show. Also featured for the Nintendo Wii version is four-player "Battle Mode" competition allowing players to face off against three other human or AI controlled enemies, or play co-operatively with allies. If you are a fan of the show or just a fan of anime in general, Beyblade: Metal Fusion – Battle Fortress looks to be perfect to quench your gaming thirst as it spins into stores on November 9th. Until then, check out the official website at www.beybladevideogame.com.