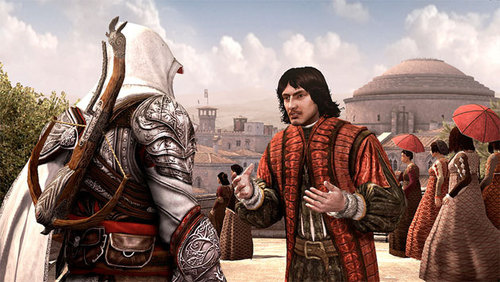 Two lousy days* is all that separates us.  Two days until we can bring freedom.  Two days until we bring victory.  Two days for glory.  Two days for unity.  Two days until we can stab some corrupt villains in the back.  Two days to take back Rome with some old school tanks.  I ask the villians of Rome, "Is two days enough to settle your affairs?  You know you won't be taking care of anything for awhile."
[pro-player width='530′ height='253′ type='video']http://www.youtube.com/watch?v=KAb0YtprjQQ&feature=player_embedded[/pro-player]
*4 days for Australia and 5 for Europe.
In other news, you may have seen this creepy ad with flying businessmen and coffee, but let's take another look.
[pro-player width='530′ height='253′ type='video']http://www.youtube.com/watch?feature=player_profilepage&v=ocjHbWIKLZM[/pro-player]
Yup, it is still a frightening look at an assassin killing people that like coffee.  Who knew coffee was so dangerous?  Also: dogs bark.