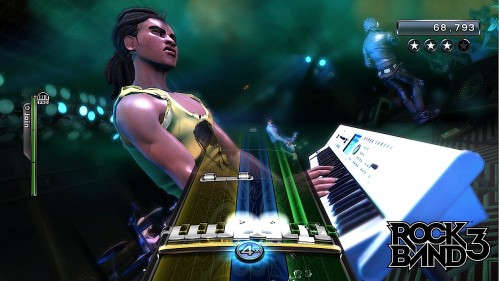 Bad news for fans of the previous two versions of Rock Band, if you haven't already upgraded yourself to RB3 then you are out of luck as far as new DLC is concerned. Anything released after October 26th, 2010 (already past) for Rock Band will only be compatible with Rock Band 3. Any Rock Band Network songs will still be available however, and any songs that have already been released as DLC from before October 26th will still work, but this is far from a consolation to those who have favorite songs being released now exclusive to the RB3.
Why this change though? Joystiq was able to contact Harmonix and it turns out that these new songs will not be backwards compatible "due to the new authoring standards, inclusion of new instruments, new lighting / venue cues, etc."
Sure it may make sense from a developing stand point, since it gives Harmonix more breathing room when it develops new effects to go along with songs, but it does pinch the pockets of those who haven't purchased RB3 yet. Though one thing that RB1 and RB2 users won't have to worry about is accidentally purchasing these songs, because any new songs will simply not show up in the Music Store or inside the internal Rock Band's marketplace. So this means that those who do not know this news at all will simply not see any new songs being released at this point in time.