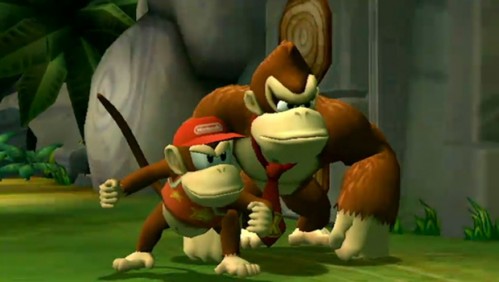 Last week, here at Capsule Computers we delivered you a Donkey Kong Returns trailer which showed off a variety of the new feautures included in the game, some of the characters that would be involved, and a general insight into some of the level structures.
Now, upping it's previous effort to wow us with its compilation of gameplay shorts, Nintendo have released a further two trailers for Donkey Kong Returns, both of which display even more gameplay and new features. There is even some suggestion as to some of the controls that will utililise the Wii controls. Also, if anyone was in any doubt as to whether the game would live up the previous Donkey Kong Country titles' difficulty, the sheer speed of the gameplay should confirm these doubts. It goes along at a blistering pace. Combine this with enticing visuals and it looks like Nintendo have a winner on their hands.
You can view both trailers on the youtube links below:
http://youtu.be/rblw1VUPog4
http://youtu.be/ZMSRo2cNnyE
Donkey Kong Country Returns is out on Wii November 21 in the US and in the UK on December 3.