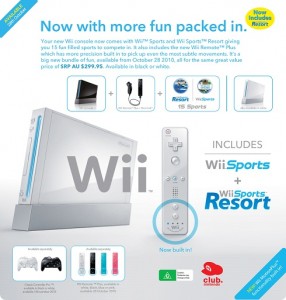 Nintendo announces that from 28 October 2010, you will be able to buy the Wii in either Black, White and for a limited time the brand new Red colour too.
Hold on that's not all the Black and White versions now come packaged with Wii Sports Resort, Wii Sports, Nunchuk and the original Wii Remote will be replaced with the Brand new Wii Remote Plus and all for the same great value of £159.99/ AU $299.95
Please note that the Wii Remote Plus is the original Wii Remote, with Wii MotionPlus functionality built in!
The Red Wii
The Red Wii console includes Red WiiMote Plus, Nunchuk, a copy of New Super Mario Bros Wii, Wii Sports and a digital copy of Donkey Kong pre-installed.
Please click here for more info on this great new product from Nintendo.
Also available are two great new WiiMote Plus colours too!