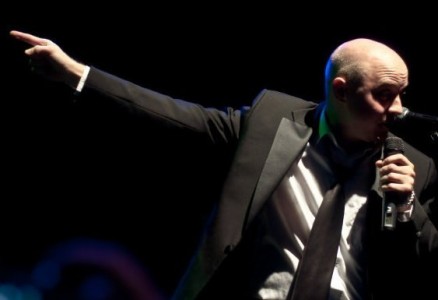 Now here's a guy who's music and comedy every self-respecting video game fan should be obsessed with. Brentalfloss has grown pretty popular in the past few years because of his "With Lyrics" series of videos on YouTube, where he writes and sings funny lyrics over themes from various old-school video games like Mega Man, DuckTales, Mario Bros., Punch-Out!!, basically anything and everything you played as a kid. Well, I got to sit down and chat with him at the New York Comic Con, and as a comedian/musician who does the same thing myself, it was a real pleasure to talk to someone who I can sort of relate to in that way.
We got Brentalfloss here!
What's up?
So let me ask some questions of The Floss.
Absolutely
So when did you first start doing the "With Lyrics" videos?
The first "With Lyrics" video was July of 2008, so almost two and a half years ago.
Nice, so what was your inspiration?
You know, I'm always asked that question, I'm not really sure what it means. I had Mega Man 3 stuck in my head, so I wrote lyrics to it. I mean, y'know, yeah like I just couldn't get it out of my head so it was sort of a way to cope… uh I guess, yeah haha.
Which is your favorite song that you've done?
Oh, maaann… in what category, I'm sorry I can't just pick ONE favorite
Uh… funny?
The funniest one?
Yeah which one do you think is the funniest?
I think the funniest one is… probably Tetris. At least that in the fact that it's the most broad appeal, like uh… basically… um… *waves to a fan walking by taking his picture* I'm multitasking haha! The point is that uh… Tetris works with a lot of people, DuckTales… you kinda gotta know DuckTales, you gotta have played the game, Tetris is kind of universal, so it's probably the funniest in my mind.
And what do you have in store for the future besides music? Any new songs coming out? Any new albums? Any animated series in the works?
I do not have an animated series in the works, you said that as if you knew something I didn't know haha. Basically, I'm gonna keep on going with the "With Lyrics" series, but I'm also working on a "rock opera concept album" which will use music from video games out of context, what I mean by that is it will do to video game music what Moulin Rouge did to pop music. Repurposing songs we already know to be musical numbers in a story, and the story's about a "Nintendo Time Machine", and that's all I can say right now.
Well, alright! That's Brentalfloss for ya! Thank you very much!
Pleasure!
Again, to anyone who hasn't heard his music, check out his YouTube channel right now (http://www.youtube.com/brentalfloss) he's always posting new videos, and make sure to order his CD "What if this CD… Had Lyrics?" from the ScrewAttack Store (http://www.screwattackstore.com/brentalfloss-cd.html).
I just want to thank Brentalfloss once again for taking the time to stop and chat with me at the New York Comic Con!