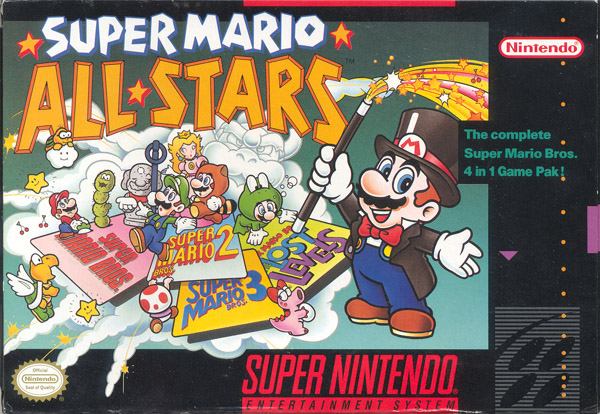 Could you imagine that just twenty five years ago, Mario was nothing more than a character first being introduced to gamers. He could have simply fallen by the wayside as a basic character but instead he has stayed strong and has appeared in hundreds of different games. Well now he is getting even more love because Super Mario All-Stars is going to be packaged up and released for the Wii in time for the Holiday season.
Bundled with the Wii game, Soundtrack CD, and a 32 page book containing the history of Mario. Super Mario All-Stars contains the four games you can see above; Super Mario Bros., Super Mario Bros. 2, Super Mario Bros. 3, and Super Mario Bros.: The Lost Levels. Sure they are the NES versions of the game and that boxart up there is for the SNES, but they are the same games regardless with upgraded graphics.
Releasing on December 12th the Super Mario-All Stars collection will sell for $29.99 on the Wii alone.