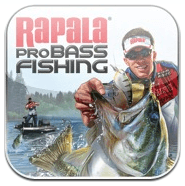 Activision have released Rapala Pro Bass Fishing on both Apple iPhone and iPad.  (BUY NOW)
There's a few fishing games out at the moment but looks like Activision might be on a real winner with this one.  Check out all the great things you can do in this version of Pro Bass Fishing.
You can compete against real life pro fishermen in authentic tournament action and prove you're the best !
Highlights :
Fully Integrated Motion and Touch Controls: Experience fishing action on the water with precise angling mechanics that allow you to feel the smooth precision of the cast, intensity of the strike and the struggle of the fight with unprecedented accuracy. Tilt, steer and touch to cast it, crank it and set the hook!
Authentic Pro Experience: Use the same tools the pros use including an unequaled assortment of Rapala® lures and licensed equipment and gear to fish for 20 trophy species of fish.
Exciting Tournament Action: Experience pro tournament action as you compete against the Rapala® pro staff in over 25 tournament-style events.
"Sports TV" Presentation: Announcer commentary, live updates, cinematics and heart-pounding final weigh-ins.
Bonus for iPad players – Simultaneous Multiplayer VS. Mode: Challenge a friend in a variety of competitive arcade-style fishing challenges. (NOTE: Only available when the game is downloaded to iPad)
Rapala Pro Bass Fishing is currently only available through the US iTunes Store and priced at only $4.99 US it's a  bargain.  It's even cheaper than buying frozen bait from the tackle store. 
Net this one up before it gets away !!