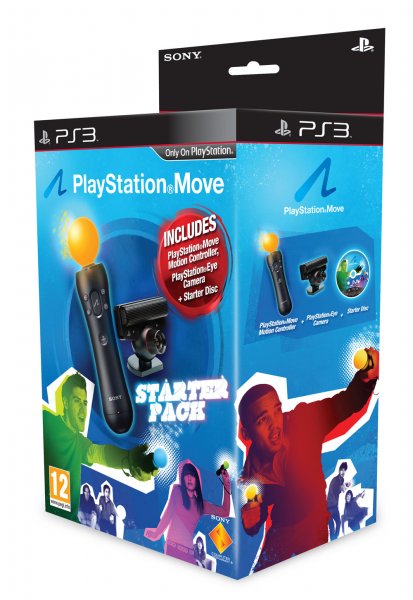 Sony's Latest gaming accessory the Playstation 3 MOVE is out already and ready for you to get stuck into. Today we run through what you get in the box when with a MasterAbbott special Unboxing.  Yes I really enjoy doing these.  Check out the video below and make sure you pick one up at the moment Fishpond are having a special check out the price below !! This also includes free FREE DELIVERY !! BARGAIN !!
Sony Playstation 3 MOVE = WAS $99 NOW – $79.97 !! MAKE SURE YOU USE THE CAPSULEC PROMO CODE TO GET AN EXTRA $10 OFF !!
[pro-player width='500′ height='253′ type='video']http://www.youtube.com/watch?v=bttc6VCePEE[/pro-player]
Full details and information :
PlayStation Move Bundle includes:
* PS3 Move Controller
* PS3 Eye Camera
* Includes the starter disc
PlayStation Move offers a new and innovative gaming experience for the PlayStation 3 (PS3) system by fusing realistic, high-definition gaming along with accurate, intuitive control. Consisting of PlayStation Move motion controller, PlayStation Move sub-controller and PlayStation Eye camera, PlayStation Move enables sophisticated motion control and immersive gameplay only possible on the PS3 system.
The corner stone of PlayStation Move, PlayStation Move motion controller combines advanced motion sensors, a dynamic color changing sphere, vibration feedback, and an easy to use button interface. Equipped with three-axis gyroscope, three-axis accelerometer and terrestrial magnetic field sensor, PlayStation Move motion controller tracks the precise movements and the angle of the controller. The PS3 system also detects the absolute position of the controller in 3D space by using PlayStation Eye camera. Highly sensitive movement tracking can be accurately traced back to the game, allowing intuitive gameplay as if the player is within the game.
Features:
* Works with PlayStation Eye camera to accurately track player position
* Includes action buttons of DUALSHOCK 3 and SIXAXIS wireless controller for direct input
* Sleek and Wireless
* Built-in rechargeable Li-ion battery
* Advanced motion sensors in the controller precisely track both fast and subtle movements
* Color of the sphere's light provides visual feedback during gameplay
* Vibration feedback is felt during specific actions
* Bluetooth® technology supports wireless gaming
* Simultaneously use up to four motion controllers with a PS3 system
* Charge the controller and automatically pair it with the PS3 system via a USB cable (Type A – Mini-B)
New to the PlayStation Eye is a noise-cancelling microphone which reduces background noise to focus on your speech when chatting to people online. Meanwhile, the camera itself can be used to take photographs and create videos or audio files, which can then be saved to the PS3's hard drive. The Eye Camera also comes bundled with software – called EyeCreate – for editing or adding "eye-catching effects" to your creations.
Eye Camera can capture up to 120 frames per second, for smoother video, and is engineered to work in low-light too, meaning it doesn't need a brightly lit room to function properly. There's also an adjustable zoom lens, featuring a 56 field of view for head-and-shoulder chat, plus a 75 field of view to capture the whole body, doubtless for EyeToy-style arm-waving games.
Features:
* A sophisticated microphone with the ability to reduce background noise and focus on the spoken word for smoother, more accurate speech recognition and transfer.
* The ability to capture videos and audio clips directly to your PS3's hard disk drive
* Engineered to perform well even in low-light conditions
* A range of different capturing modes, including slow motion and time-lapse (used with included EyeCreate software)
* Faster frame rate for improved tracking, responsiveness and smoothness
* Two position zoom lens for close-up and full body options
* A range of eye-catching visual effects to apply to photos and videos
* Bundled with EyeCreate™ editing software, which allows users to save and edit photos, video and audio clips