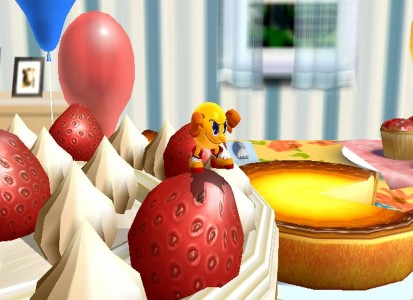 Is reading that headline much of a surprise? The original gaming mascot's new title, Pac-Man Party for the Nintendo Wii has already went gold. Packed with mini-games and random bits of nostalgia for Pac-Man fans, Pac-Man Party puts player's skills to the test with games to test players skills and reflexes as they move about the unique virtual game boards.
With more than 50 exciting mini-games and eight characters to choose from including newcomers Woofa, Patra and Roger, players will be fully engaged using the Wii Remote's motion and button control capabilities in various time-based trials. From dodging a cascade of blocks, to racing and sheep shearing challenges, there seems to be something for everyone in this new party-themed title.
There is three game modes in all for Pac-Man party as well. Story mode provides the opportunity to explore all the game board worlds and protect Mr. Cookie's secret recipe. Mini-Game mode offers the satisfaction of the fun mini games with out the commitment of the standard board games and party-mode puts up to four players against each-other competing across different boards to collect the most points. Raising the stakes a bit more, property can be strategically developed on any given space which can increase wealth and provide the quickest route to victory. However unlike traditional board games, if someone lands on a spot that is already occupied, players will have to fight for ownership via challenges.
If party games are not your thing, Namco also seems to have you covered with some classic action as well since the game will feature the original arcade versions of PAC-MAN, Galaga and Dig-Dug. Pac-Man Party launches on the Wii November 16th in the US, the 25th in Australia and the 26th in the EU region. You can check out a gameplay trailer below and check back here for more updates about this hot new party title.