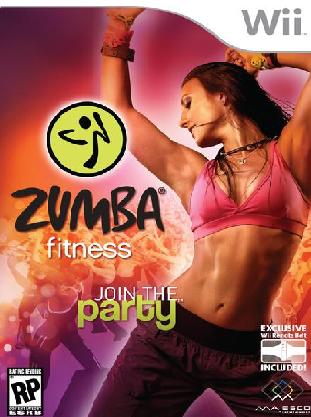 It's really no secret about the huge trend of exercising and dance games. The genre has literally exploded within the past year getting those who never even leave their house up and working out with addictive dance-style moves and mini games. The newest entry into the genre is Zumba Fitness which will be hitting all three major consoles this holiday season.
If you are curious to find out what "Zumba Fitness" really is other than the title for the game, here is a bit of history to catch you up.
Created in the 90's by Miami-based celebrity fitness trainer and Colombian native "Beto" Perez, Zumba® has become the fastest growing fitness program on the planet. Inspired by the traditional Cumbia, Salsa, Samba and Merengue music he grew up with, Beto paired his favorite, pulsating Latin rhythms with the red-hot international dance steps his clients loved and the Zumba Fitness Program was born.
The Zumba® program is a Fitness PartyT with a contagious blend of Latin rhythms and easy-to-follow dance moves that provides an exciting and effective workout to a global community. Through exhilarating, high calorie-burning fitness classes, Zumba has helped melt the pounds and inches off approximately seven-and-a-half million Zumba enthusiasts in 105 countries. Using simple Latin and urban dance moves, Zumba routines successfully tone and sculpt the body while burning fat. Offered in 60,000 class locations worldwide, the Zumba brand also encompasses specialty programs including Zumba Gold (classes for active seniors and de-conditioned participants), Zumba Toning (body-sculpting classes using light weights), Zumbatomic (for kids) and Aqua Zumba® (water-based workouts).
Now that I have caught you up on what to expect in the game as far as the exercising goes, I should also mention the features that Zumba Fitness offers.
Features
Bring the ultimate Zumba Fitness experience home with you in the first interactive game based on the successful brand!
Learn and perfect nine different dance styles: Reggaeton, Merengue, Salsa, Cumbia, Hip-Hop, Mambo, Rumba, Flamenco and Calypso
Includes 30 Zumba routines—some exclusive to the game—designed by Zumba creator Beto and his core group of celebrity instructors
Build strength, tone and endurance as you dance to 30 official Zumba music tracks, some created exclusively for the videogame
Follow your on-screen Zumba instructor's routine in a high voltage party atmosphere. As you fine tune the steps, the stage transforms and the party and crowd become more dynamic.
Affix the belt to your waist so the the Wii Remote or PlayStation 3 Move wand ride on your hips where the movement originates from. Kinect play is controller free.
Supports up to four players on Wii and Move and up to two players on Kinect (or four turn-based). Team up and try to earn the highest workout score as a group or play against each other in Zumba Attack! Mode for the ultimate fitness dance off.
Dance in a range of venues: learn the basics in the Zumba gym and then take  the party to a fantasy night club, an industrial factory, a skyscraper rooftop and a futuristic "Master Jam" stadium
Includes "Learn the Steps" training, Beginner, Intermediate and Advanced routines for all skill levels
Cool post-processed video-based aesthetic brings the party to life
DLC for new routines, dance styles and music packs
Getting gamers in shape can be a tough chore, but this game is looking to offer a real respected routine and the music and motion controls should add to the fun and get the whole family involved which is definitely a huge plus. Zumba Fitness will be available for the Playstation Move, Kinect, and the Nintendo Wii on November 18th. Gamestop also is offering a pre-order bonus of a Zumba wristband while supplies last. Check out the 13 screenshots for the Nintendo Wii below.