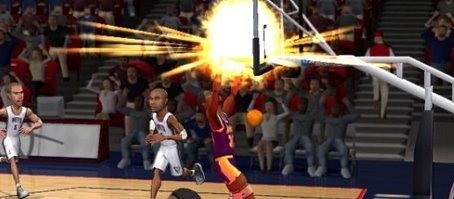 NBA Jam, formerly a pack in with a full purchase of NBA Elite 11, will now be available for purchase at a retail $50 price tag on Xbox 360 and PS3.  So, what do you get for your extra $50?
Online play will feature 2v2 player action right out of the box.  Remix mode and Classic mode are also available at launch, though only in single player form.  In December, a title update will reveal local and online game modes like: Backboard Smash, Domination Free-for-All, Elimination, and 21.  Party Jam will will enable 3 friends to play along.  Online Progression will also rear its beautiful head by enabling players to progressively unlock stuff online (Obama?)
Trey Smith, Creative Director of NBA JAM said, "We have listened to our NBA JAM fans and appreciate their desire to play this game online, so we are going to deliver the online feature set they expect and deserve.  Fans will be able to play Classic JAM online right out of the box, and can expect to enjoy features like Team-up, Remix Online, Jam Party, Online Progression, and even more secret players and teams, in December."
You ready to get Jamming online? Or is there a $50 dollar size hole in your heart?