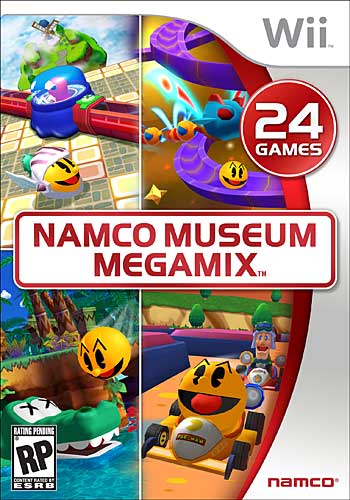 Ready for some Pac Man fever? Then you are in luck because Namco Bandai has just announced that their newest collection of games called Namco Museum Megamix has just gone golden for the Wii. This means that one of the largest collections of old school arcade games and new games is confirmed for its release on the Wii.
Namco Museum Megamix brings together new games with the classics. There are a variety of old school games such as Pac Man, Galaga and New Rally, along with their remade versions like Galaga Remix and Rally-X Remix that have been revamped with Wii compatibility.
A small sample of what games will be included can be seen below:
RALLY-X REMIX – Burn rubber and collect the flags on each course. Up to four players can compete to see who can grab the most flags.
GAPLUS – Destroy a continuous swarm of enemy aliens in this prequel to the arcade hit, GALAGA.
DIG DUG II – The 1985 sequel to the arcade hit, DIG DUG. Players must defeat enemies by inflating them with an air pump, or causing sections of an island to fall into the sea by creating fault lines with a jack hammer.
PAC-MANIA – Guide PAC-MAN through four themed levels in this follow-up to the arcade phenomenon, PAC-MAN.
GALAGA REMIX – Galaga forces are attacking PAC-MAN! Players must use their Wii Remotes to blast away the dreaded space insects to ensure PAC-MAN's safety.
The price for Namco Museum Megamix will be selling for a price of $19.99 and will be released on November 16th exclusively for the Wii.