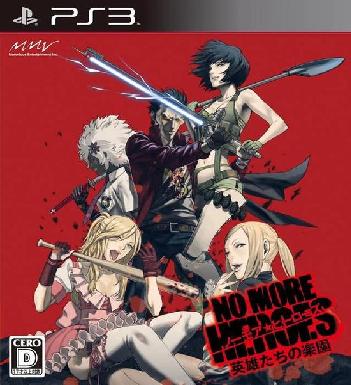 Konami recently revealed today that the Japan exclusive No More Heroes: Heroes Paradise will now be headed to the U.S.. Travis Touchdown will make his triumphant return exclusively on the Playstation 3 with full Move support.
Originally released back in April in Japan, Heroes' Paradise puts players in the city of Santa Destroy as Travis Touchdown, out to eliminate some of the world's deadliest assassins. Equipped with a razor sharp Beam Katana sword, players start off as the 11th ranked assassin and try to move up the ranks to position themselves as the ultimate killer. During the course of the game, players encounter Sylvia, a mysterious woman from the United Assassins Association, who arranges fights with other higher ranked assassins to help Travis become the number one in the world . Players will either ride through the town on Travis' trusty motor bike or travel on foot to arrive at Travis' next assignment.
The Playstation Move comes into play with Travis' Beam Kitana, allowing for each bout tracked by a dynamic camera that showcases the game's stunning visuals and cinematic fight sequences. There is even cinematic finishing moves to add the exclamation mark on each battle.
Here is a bit more information from Konami's official release:

Travis' progression is enhanced via a series of sub-missions as well as the ability to hone his skills and upgrade his weapon within the lab. Santa Destroy is a living, breathing place, and the anti-hero can enter shops, visit a gym to train, and collect special icons that will enhance his attack options. As players progress through the game, they will have the opportunity to complete deadly missions and side jobs as they make their way up the ladder of the United Assassins Association.
Aside from the side missions, players will also be able to enjoy newly added game modes like "Rebout Mode" where former foes can be challenged again. Also, players will have the opportunity to encounter additional boss characters that were not available in the original episode but will be on the PlayStation 3 version of the game. Additionally, "Viewer Mode" is also available allowing players to re-watch infamous cut scenes in crystal clear HD graphics. With its stunning visuals, additional levels of action, improved AI and an incredible level of control, No More Heroes: Heroes' Paradise represents a welcome return for one of gaming's most daring creators.
I am all for seeing this title brought out of Japan as the No More Heroes series was spectacular on the Wii and I am sure the level of quality will only improve with the Playstation 3's hardware and Konami producing the port. No date has been given but the release will be sometime in 2011. We will keep you updated as more news releases and if any other regions get listed as well.