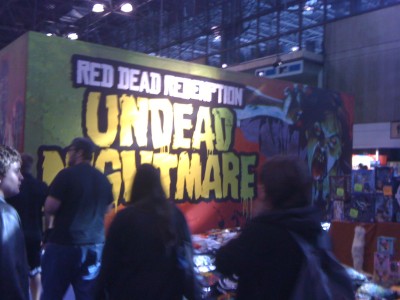 The New York Comic Con is officially over, and now I'm going to give you a recap of the last two days from my own personal point of view. Saturday was an exciting day, I worked my real job during the day with hopes of getting to the city in time to enjoy the fruits of the rest of the day at Comic Con. All day friends were calling me telling me cool things that were happening, and finally, at 3:00 I shouted "yabba-dabba-doo!" and ran out the door. I got to the bus stop and waited.
And waited. And waited. I got to the bus stop at 3:20, the bus runs every 15 minutes, and guess what. It never showed up. Finally around 4:30 I decided that it wasn't worth it, I was tired from work, if the bus had come at that moment I wouldn't be at the Javitz center until 5:30, leaving only an hour and a half of time to check things out. I decided to cut my losses and go home and set up my new iPhone this way come Sunday I'd be able to take more pictures. Afterwards, I went out drinking with my friends.
The next morning…
I awoke around 7:47 AM to find that my head feels ten times it's normal size, I get up, took a shower, loaded my iPhone with great tunes, and hit the bus which was actually there on time today. I got to the Javitz center around 10 and started my day.
First stop, Red Dead Redemption's Undead Nightmare DLC. I got to test out this new addition to the original Red Dead Redemption, but not without asking a few questions of the guy at the booth. My question: "Why?!??!?" His response: "Well, why not!" My rebuttal: ":|"
I was then led to one of the demo stations and the girl instructed me on what to do: I had to burn some coffins, and then some zombies showed up, and then I had to protect myself from them by shooting them down while still burning coffins. I'm really not into the whole zombie thing, I feel like it's overdone, but this DLC was actually pretty fun. I like the concept of having a normal known game being taken over by zombies, it was pretty cool. I had fun with it, and I walked away with a shirt!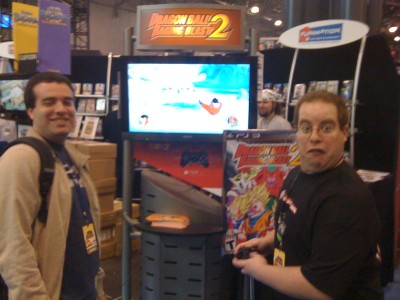 Across from Rockstar's booth was the Funimation booth, which had a demo of the upcoming Dragon Ball Raging Blast 2. I didn't get to check it out much, but I watched my older brother play it, and he said it was an improved version of the first game. We didn't get to see any of the anime, which is what I'm most looking forward to, but that's okay because the game'll be out in a month anyways.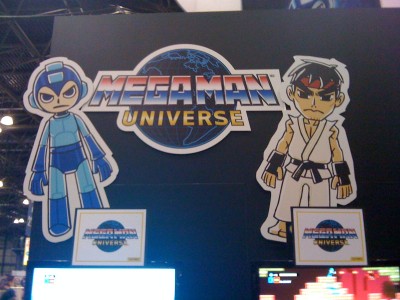 Next stop, Capcom to check out Mega Man Universe! I get to the booth, the demo was open, so I start playing and let me tell you this is true old-school Mega Man with it's own new 2.5D charm. Like I said yesterday, it seems like a mixture of old school Mega Man with Little Big Planet. You create your character, you create your stages, and you can share them with others. What I played was a standard Mega Man level that had a little New York Comic Con banner floating around, which was pretty cool. There's not much more I can say about it, it's a solid entry in the Mega Man series that's bound to keep fans happy. One thing we didn't get to see and that's how other non-Mega Man characters like Ryu and Arthur play. Let's hope they show us some of that soon!
While I was at the Capcom booth, I caught wind of the World of Capcom panel where they would be discussing new games. So, like the reasonable Capcom fan I am, I ran to the panel and waited on line for an hour to get a good spot. Needless to say, I uncomfortably waited between two fat, sweaty slobs.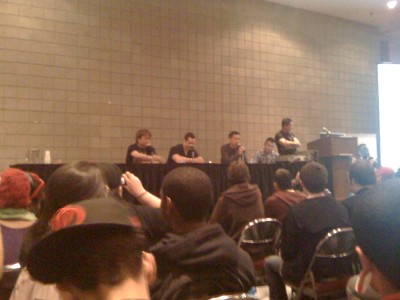 Before I could suffocate, they opened the doors and let us in! We took our seats, they talked a little about some upcoming games from Capcom like Okami-Den and Bionic Commando ReArmed 2, which looked cool, then they talked about Mega Man Universe and Marvel vs. Capcom 3, which was alright I guess, but then they got to the meat and potatoes.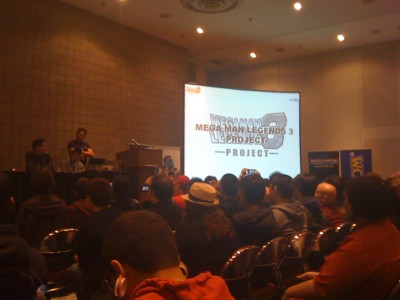 Mega Man Legends 3. More specifically, Mega Man Legends 3: Project. Now they started discussing what the "Project" part of the title meant. They want the fans involved in this project more than ever. Keiji Inafune himself explained what they meant. He said that the Mega Man Legends series was never the most successful series as far as units sold goes, but as far as the fans were concerned the games were great, and they were fantastic games. I'm a huge fan of the series myself, so it was a huge treat hearing that they wanted the fans to be involved in it. They're taking requests from fans for boss battle concepts, voice actor suggestions, basically anything you can think of, they want to hear from you. Their main sell to this is that it's truly a game made by the fans for the fans. They showed us a contest they're holding among Mega Man developers who've worked on numerous different Mega Man games which was to design a new female protagonist, there were 9 designs and they were pretty cool, that was to show us how the rest of the game's development will probably go about. Mega Man Legends 3 will be released for the 3DS, and I'm secretly hoping they release Mega Man Legends 1 and 2 on the PlayStation Network and then follow that with Legends 3 being released on PS3 too (a guy can dream can't he?).
Once the panel was over I left and looked for my intern who said he was gonna be there at 10, it was now 1, he hadn't even gotten to the convention. The first day my cousin Joey was my intern, this time it was a friend from a summer program I did in high school, he's in college now and I felt this would be a good experience for him. He never showed up, so I wound up carrying everything and trying to do everything myself. Done complaining about that, where was I? Oh yes, once I was out of the panel, I started shaking hands with various people in the industry, making personal connections and what not. Definitely didn't slack off today! But at the same time there wasn't as much pressure as there was on Friday due to me knowing where everything was and how it worked now.
All in all, this was a good Comic Con. Met a bunch of awesome people like Brentalfloss and the boys from Powerglove, took a lot of pictures with my new iPhone, and got some swag! Hope you all dug my articles on it, and within the next few days I'll be posting my exclusive interview with video game parody sensation Brentalfloss including some details on a new project he's working on that's really cool!
Check out the gallery of pictures I've taken while attending the con, there's some pretty cool stuff I saw like those Mega Man figures, and what's up with the Marvel vs. Capcom 3 logo inbetween M. Bison and Zangief, two characters not yet announced for the game? Did someone leak something? Whoops!