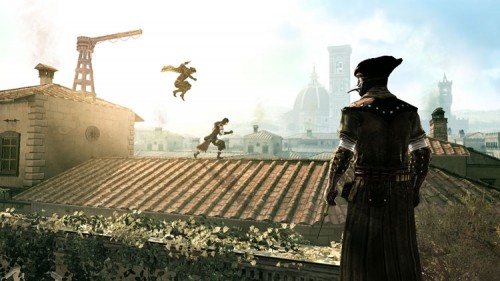 The Assassin's Creed franchise has sold over 19 million games and Ubisoft has charted record pre order sales for the next game in the series: Assassin's Creed Brotherhood.  Marketing budgets for AC: Brotherhood have also surpassed other marketing projects by Ubisoft.
Geoffroy Sardin, Chief Marketing and Sales Officer, says, "Assassin's Creed Brotherhood is being heralded by the press as a single and multiplayer experience unlike any other.  As evidenced by the record number of pre-orders and the success of the multiplayer beta, consumers can't wait to get their hands on Assassin's Creed Brotherhood, and we're looking forward to delivering them an experience they'll never forget."
Brotherhood will be released on PC in 2011 and on November 18 for consoles.  Get prepped for 15 hours of single player campaign and a new multiplayer experience.  If you can't wait that long, you can play the Facebook game now.