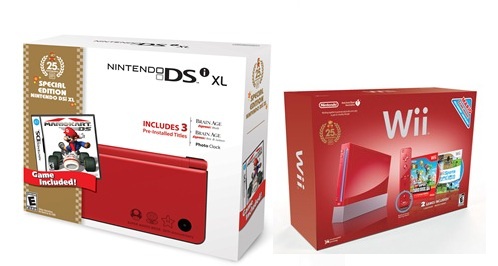 Nintendo may have released the different bundles for other parts of the world, but the United States did not have any special edition announced though the date was growing closer and closer. that is until now. Nintendo of America has announced that they will be bringing us two special edition bundles for the upcoming 25th anniversary.
As you can see above we have the 25th anniversary edition Mario red Wii that will cost $199.99. With this bundle there will be your standard Wii Sports, a Wiimote with a motion plus, and the true bonus New Super Mario Brothers Wii.
There has also been the red DSIXL bundle that will cost $179.99. This bundle includes a Mario Kart DS cartridge, and DSiWare games Brain Age Express: Math, Brain Age Express: Arts & Letters, and Photo Clock.
Seems like a pretty good deal if you haven't purchased a Wii or a DSi yet, I know that I don't have the DSiXL, so may take this offer up myself to get all the bonus games without the additional costs when it hits shelves on November 7th.