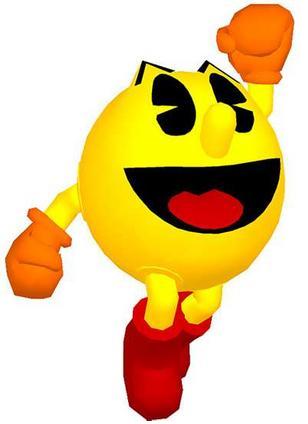 Over the years, Namco has released many Namco Museum titles for those who love their classic arcade titles. For fans of the series it is wonderful news that Namco-Bandai Games have now announced a brand new compilation of classics and some new remixes of old favorites with Namco Museum Megamix for the Nintendo Wii. The game will feature 18 arcade-perfect ports and six special "remixed" versions of classic Namco arcade titles. This newest installment will also feature updated graphics and added motion control support to give each title a fresh new feel.
Some of the titles to be included are:
PAC-MAN – Relive the classic that ignited an absolute arcade sensation.  Collect all the pellets in each maze before getting caught by the ghosts; Inky, Blinky, Pinky, and Clyde.
MAPPY – Help Mappy the police mouse bring criminal cats to justice.  Mappy must recover all of the stolen goods by outsmarting the cats in their mansion.
Galaga – Prepare for space war!  Players must defend their ship from the unrelenting waves of Galaga forces in this 1981 arcade classic.
GROBDA Remix – Control PAC-MAN as he takes out enemy tanks through a series of arenas.
Pac Motos– Players control their own PAC-MAN as they attempt to knock other players off a variety of unique arenas.  Tilt the Wii Remote™ to move PAC-MAN, collect power-ups and bash into opponents to be the last PAC-MAN standing.
Pac 'n Roll Remix – PAC-MAN is in a hurry and he needs help. Guide PAC-MAN past obstacles with the Wii Remote as he races to the finish line of each stage.
Rally-X – Players must pick up the 10 flags placed around each race track.  Use smoke screens and out-race other players to win.
And many more!The Namco Museum series has always been one of the best compilation sets out there and this one looks to be even better with all of these new updates. Players can relive the classics and get to try out whole new gaming experiences this November.