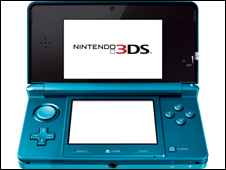 Over in Tokyo, Japan, Nintendo held a press conference just a bit ago to explain some of the features of the Nintendo 3DS. A source from a 3DS fan site who is at the conference has been blogging since the start and this is what we have learned so far:
The 3DS will be launching with a brand new Virtual Console. Game Boy & Game Boy Advance titles will be available as well through this new Virtual Console.
Miis are confirmed! You can use the 3DS's camera to take a picture of yourself and the unit will automatically create your Mii.
A new tag mode will also let players exchange Mii information and certain game data without cartridges.
The official price of the Nintendo 3DS is ¥25000 ($298 US), Nintendo did not release the price for the U.S. or any other regions at the moment.
Japan Release date is set at Feb. 26th and The U.S. will be seeing a launch in March.
The 3DS will have a cradle allowing faster internet connections and downloads.

Nintendo has quite a blockbuster system on their hands here and a lot of questions are still yet to be answered, but I would expect Nintendo of America to make an announcement very soon on all of these new features and pricing as well as an official date for the rest of the world. We will bring you more news as we hear it so keep checking back on this developing story.