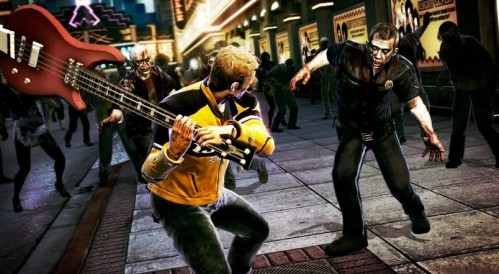 Games in the US always have to go through the ESRB to receive any sort of chance for release but these ratings usually are very cut and dry and can easily go unnoticed as the hype for large games who really cares about the ratings board at this point right? Well occasionally they can give us a bit of a laugh and even a preview as to what type of characters we may stumble across and the different zombies we will be fighting.
Below is the detailed rating given by the ESRB for Dead Rising 2:
This is an action-horror game in which players assume the role of Chuck Greene, an unwitting contestant on a "kill-or-be-killed" zombie game show. Players can use guns, swords, chainsaws, or flamethrowers to kill the myriad zombies and scattered humans. Large sprays of blood frequently occur and zombies frequently get dismembered and decapitated; for example, players are able to ride a motorcycle through mobs of zombies, sawing off multiple body parts. Cutscenes include the following depictions: zombies that rip chunks of flesh off humans; a man whose blood is churned out of him by an impaled spinning blade; and a man who drills a chainsaw into a priest's chest. Some female characters are dressed in revealing outfits (e.g., skin-tight leather, lingerie, showgirl costumes), and players can enter a "Peep Show" or receive a "Peeping Tom" bonus. Some missions involve making, serving, and drinking alcoholic beverages (e.g., wine, vodka, and whiskey); if players drink too much alcohol, their movements may become erratic and they may vomit. The dialogue includes language such as "sh*t" and "b*tch."
Sure sounds like a good time, and considering there will be no photography this time around, it will be interesting to see what that Peeping Tom bonus is all about, but then again we have priests getting chainsaw'd and a man being impaled on a spinning blade, so looks like everyone will be in for a good time later this month on September 28th when the game is slated for release.
Source:(ESRB)