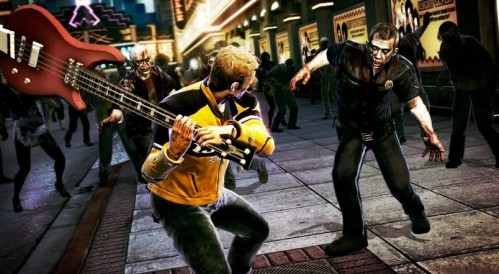 Wrongly accused of causing the zombie outbreak that has overrun Fortune City what will Chuck do to clear his name, save his daughter and lead them both to safety? He has 72 hours and the clock is ticking.
Dead Rising 2 builds on the success of the original title adding co-op play, hundreds more zombies, all new environments, Psychos, and a brand new feature – Combo weapons. This allows Chuck to take two conventional items plus a roll of duct tape and construct awesome zombie killing weapons. Put simply, creativity kills.
Hundreds of thousands of gamers across the globe have already experienced the zombie slaying fun having purchased the Xbox LIVE® online entertainment network exclusive Dead Rising 2: CASE ZERO. Since its release on August 31s, the title has achieved over 500,000 purchases and broke the previous record to become the best selling piece of content on Xbox LIVE® Arcade for the Xbox 360® video game and entertainment system from Microsoft in a single week. Xbox 360 owners wishing to extend the Dead Rising 2 experience will be able to purchase the Dead Rising 2: CASE WEST, a new unique piece of content. This Xbox 360 exclusive, available after the launch of the main game, sees Frank West make a welcome return as he teams up with Chuck for co-op action in a series of all new cases.
Dead Rising 2 is available across Europe and Australia for Xbox 360 and PlayStation 3 now, September 24th, with the Windows PC version shipping on September 28th.
The title releases on all platforms in North America on September 28th and in Japan on September 30th.