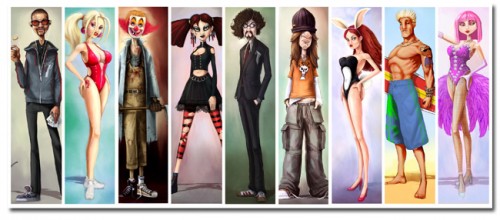 Ubisoft are inviting players to have a "Bloody Good Time" with their new IP from developers Outerlight. Bloody Good Time offers a different approach to the shooter genre, putting players on a Hollywood set. In this multiplayer shooter you control a range of Hollywood-hopefuls, from washed-up film extras to B-movie Bikini Babes, all trying to impress the Director, aptly named Director X. Your reward for coming first: camera time and a place in the credits. Director X's audiences are always astonished by the realism of his scenes, but he is in fact, just filming the actors battle it out for fame and fortune. 
Bloody Good Time will run on Valve's Source Engine, a 3-D engine suited for shooters of this nature. As you can see from the announcement trailer, Bloody Good Time shares a passing resemblence with Valve's Team Fortress 2, not only due to the same engine, but also due to the wacky array of weaponry like in TF2.
When released, Bloody Good Time is set to feature 8 -player online multiplayer, and will provide 'multipayer experience like no other'. For now, here's the trailer that accompanied the announcement.
Bloody Good Time will be released on Xbox Live Arcade for the Xbox 360, and Steam on Windows PC in Spring.