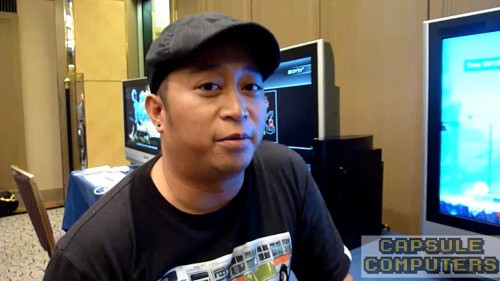 I recently sat down with Producer Product Development at Capcom : Rey Jimenez at Tokyo Game Show.  Rey walked us through the upcoming sequel Bionic Commando Rearmed 2.  If any of you had played the original Bionic Command Rearmed on either Xbox Live Arcade or PSN you will instantly see a huge difference graphically as well as many new features and updates to this fantastic sequal that will be available on Xbox Live Arcade and Playstation Network very soon. 
Everything you need to know is in the video interview as Rey runs us through a level and explains all the new weapons along with offensive and defensive components which are new to the game.  You can now JUMP !! Yes thats right, not only can you use your trademark hook to grapple and swing around from ledge to ledge but you can now jump and climb to as well which will certainly come in handy.
We spoke to Rey after posting this interview as we also wanted to let everyone know about the new "Biovision" feature.  When I saw this in the game I couldnt stop using it.  It's MEGA cool.  Have a read on what Rey had to say about it.
We call it "Biovision".  Instead of the info database that was used in the first Rearmed game, we have it so that at any point in the game, you can press RT/R2 to go into Biovision mode.  Using the Biovision, you can press A over an object to learn any details about it.  It will come in handy when you're up against any enemy or obstacle and don't know how to get passed it.  It will give you a clue on it's weakness.
Enjoy the interview and screenshots below :
(Video can be changed to 720p)
Capsule Computers would like to thank Rey for spending the time to walk us through a level of Bionic Commando Rearmed 2 which will be available early next year on both Xbox Live Arcade & Playstation PSN.
[Gallery=105]