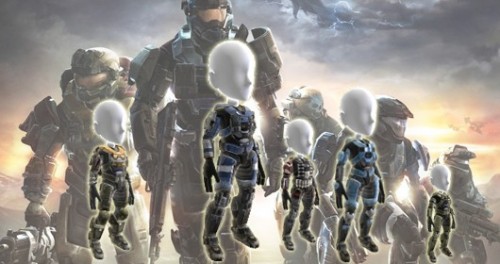 I'm sure that anyone who has played Halo: Reach already maybe has unlocked a few of Noble Team's helmets to go on your avatar.  But doesn't that helmet look a bit out of place?  Well not anymore it won't.  Too bad though that the only way to get the matching armor for your avatar character will require that you spend a bit of money on it in the way of MSP.  Too bad they weren't extra Waypoint awards or even Halo: Reach multiplayer rank awards huh?
First though we have the leader of Noble Team, Noble One: Carter's armor: male , female
Secondly we have the tech specialist of Noble Team, Noble Two: Kat's armor: male , female
Then we have the sniper Noble Three: Jun's Armor:male , female
The tough and grizzled fighter of the team; Noble Four: Emile's Armor:male , female
And last but definitely not the least we have the gatling gun carrying Noble Five: Jorge's Armor:male , female
All of these armors will cost 400 MSP ($5). This isn't too bad considering if you are a major fan of a certain Noble Six member then you can make your own avatar appear as them. Though it's also interesting their are both male and female suits for everyone on the team, but does keep the options open for everyone.
Picture Courtesy of Joystiq