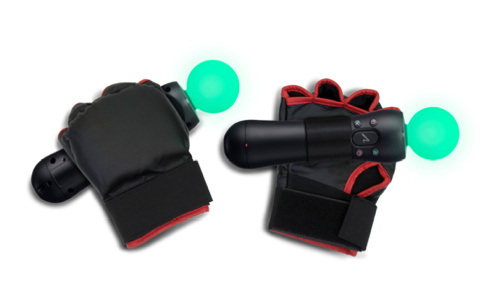 We all knew that it would be inevitable. The Wii has at least a hundred different type of peripheral items that you can attach to the Wiimote. And everyone has mentioned at least some similarities between the Move and the Wii, and it is only getting worse now.
Gizmodo has caught wind of these new boxing gloves from CTA Digital which are designed to keep your television safe from a flying Move controller when your throwing lefts and rights. There is velcro attatched to the inside of the glove where you can wrap it around the Move controller to prevent a TV smashing punch from happening. There is also velcro adjustable wrist straps to make sure that the gloves themselves won't just fly off and negate the whole reason you bought the thing in the first place.
Is it just me or do these look a bit like UFC fighting gloves? They even appear to be padded so if you do happen to hit something with them it wouldn't hurt as much as punching with your bare hand, though it would be highly not recommended.  There is no price tag to go along with these gloves, but expect to see at the least a $20 or higher cost when these arrive on shelves.