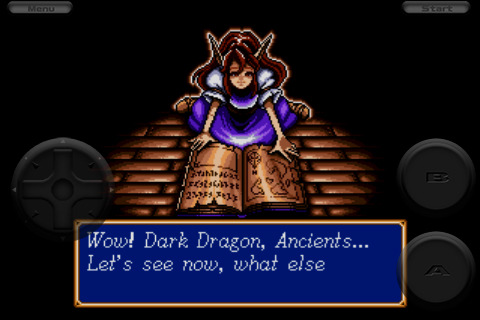 Sega's remake of their classic RPG from 1992 has made its way onto your portable iPhone, and it definitely has made the jump of 18 years well. Sure the game has seen remakes before both on the Dreamcast and on the Sonic's Ultimate Genesis Collection that came out in 2009. But now you have the chance to carry it around on your person and jump into the action whenever you wish!
You will be playing as a young swordsman that must lead your allies to battle against the dark forces of Runefaust and bring peace back to the world of Rune. Thousands of years in the past the Dark Dragon was defeated by legendary warriors and driven from this dimension. Could these evil forces be the Dark Dragon returning to the world to attempt to take over the world again? It all falls to you to save the world.
Expect to see the following features when your playing the game:
Select from 29 unique characters to form your team of 11.
Explore eight intriguing chapters and fight in 30 turn-based strategy battles.
Defeat 43 monsters and 10 fearsome bosses.
Find or buy 34 weapons, equip seven magical rings, collect items and cast 32 magical spells.
Unlock two secret costumes for the MAGE characters Tao and Anri.
Play either the US or Japanese version of the game by switching your device's language
If this happens to fit your fancy then you can buy it now for the price of $4.19! The fact you can create such a large fighting force and do battle at one time is definitely a plus for me, as recruiting soldiers to fight alongside me is always one of my favorite parts of an RPG.