There's a Free Weekend coming to Ubisoft's Real Time Strategy game R.U.S.E on Steam: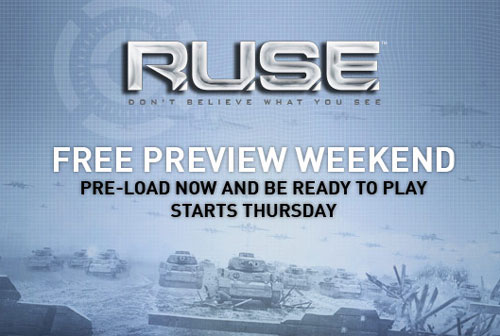 From Steam's website:
The Free Preview Weekend of R.U.S.E. will let you play a sizeable slice of the multiplayer, featuring new maps never played before. Play with 2 to 8 players, with any team or free-for-all combination, and with any of the 6 factions available in the final game. You can also play battles against the medium or hard AI for the first time. Select which nation your opposing AI will play and check out the strengths of each faction. Good luck defeating the hard AI!
You can start pre-loading right now by checking this link (if you have steam installed), or clicking here to download Steam first.
The Free Weekend starts Thursday, July 15th at 11am Pacific Time. You can take a look at the game's page on Steam for more details about R.U.S.E.