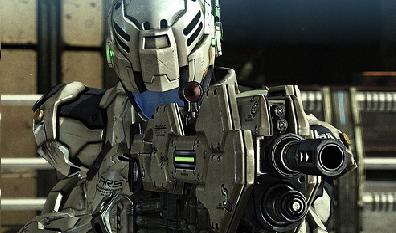 Vanquish is a game I don't really have to introduce. Sega's new shooter has been gathering buzz all year and Platinum Game's Shinji Mikami recently made a blog post at the official Vanquish blog to talk a bit about the game.

"After I finished up God Hand, I didn't have a team to work with, so I spent about a year and a half staring out a window. Soon thereafter, I was finally back at work in the studio. Vanquish is my first title after this period of almost running away from being a creator. The design of the game started with my initial desire to make a game like the Japanese animated series Casshern, as well as my desire to challenge myself by making a shooter with an incredible sense of speed and no "slogging through" sections
At that point in the design the game was a shooter with elements of Casshern (punching/kicking) from time to time, but in the end, we settled into a design that was mainly shooter with rare elements of Casshern. When you actually play the game, you realize that there aren't that many opportunities to punch or kick in the game, but when you do get the chance, the game really does feel like an action game. Even though it is stylistically a shooter, I would be really happy to have action gamers give the game a chance as well. Thanks to the skill and hard work of the team, the graphics are really incredible in Vanquish. I can whole-heartedly recommend it."
Another thing to keep a lookout for is Gideon Emery, famed voice actor for his work in titles such as God of War III, Dragon Age:Origins, and many more titles has been announced to take over voice work for the appropriately named "Gideon" in the game.
One of my favorite games of this year was Bayonetta. It was action packed, over the top and never let go until the end. To see Platinum Games publishing this title has me very excited to say the least. A shooter/action hybrid sounds great to add into this year's crazy line-up of releases and with the directors comments in this blog, we could be looking at a GOTY candidate.
Vanquish is set to release in Winter of 2010 for the Xbox 360 and PS3.