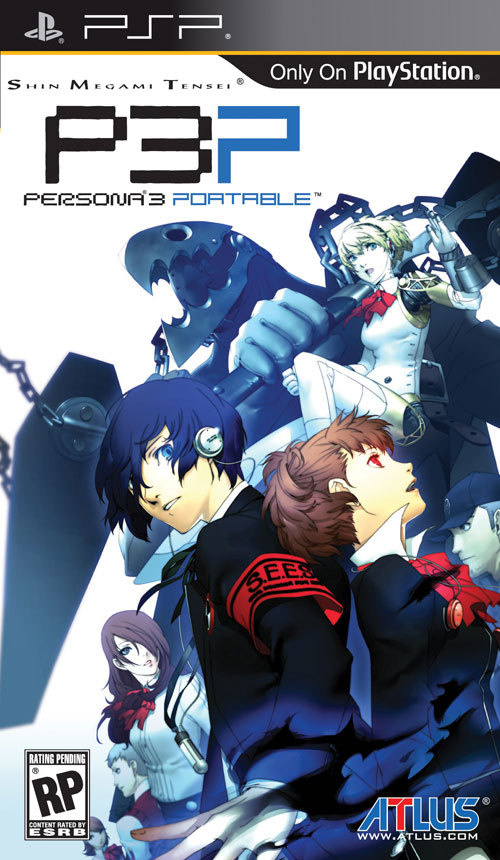 All RPG & Atlus fans can rejoice because you can take the wonderful world of Persona 3 with you on the go…PSP Go that is because it has been released on the PlayStation Store. PSP owners with the UMD models can also purchase this in retail stores for $39.99 MSRP. Bonus for those owners because as many Atlus fans know, the best things about releases from Atlus are the soundtracks and extra goodies that are included from buying their games and this one doesn't disappoint. If you were fast enough to reserve your copy you will receive a wearable hat of one of the most beloved characters of the game: Junpei Iori. But still even if you didn't reserve it some retailers will have some available but supplies are limited so hurry and pick up this title today!
Persona 3 is about your character who is a high-school student who joins a secret club known as (SEES) or Specialized Extracurricular Execution Squad. Lovely name isn't it?  Your club investigates the Dark Hour, a time period between one day and the next that few people are aware of. Contrasting from the world that you and I know, your character constantly enters Tartarus, a large tower containing monsters that live off the minds of humans called Shadows. To fight them, you must summon a Persona, a manifestation of your inner self. Now for those of you unfamiliar with this game from the PS2 release this next sentence will be a doozy, it may sound crazy but it is "serious business".  To release your persona, you must shoot yourself in the head with a pistol like object known as an "Evoker". You read this correctly.
For gamers getting into the Shin Megami Tensei: Persona series, one of the ways it vastly differs from the other role playing games is the way you interact with the world around you. This key element is what essentially drives the story in terms of character development and gameplay. Even making the choice to pick which gender you want your character to be is reflected in numerous ways and also how you treat those you come in contact with; referred to as "Social Links", makes an impact when you go into battle. In other words, the stronger your friends feelings are for you, the stronger in battle everyone is. So forget about your typical dungeon level grinding, you've got interpersonal relationships to work on at the same time so good luck trying to max out those stats! Even if you are new to playing the role playing genre the game has modes ranging from beginner to maniac for those who want to test their RPG playing skills. For those familiar with the title from the PS2 release, this version not only includes the new character which means new interactions and special events and dialog  but also less load times, one button menu shortcuts, and easier access to team equipment changes. This will make for a greater experience as you take your adventures in the world of Persona 3 with you outside of the home.
If that last paragraph entices you to pick up this amazing title, head straight to your nearest Gamestop/EB Games to pick that up and see if they have any Junpei caps left! If you tend to purchase things online, Amazon.com and Amazon.ca is the place to go to get the game and the cap while supplies last as well.