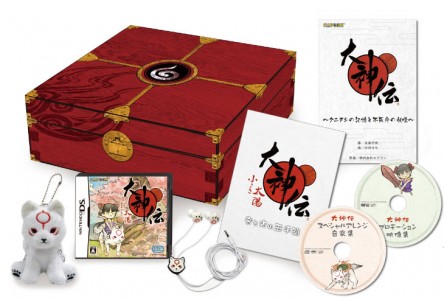 The "Okamiden Chiisaki Taiyou E-Capcom Limited Edition" has just been announced by Capcom, and you have the chance to purchase it if you live in Japan or have a friend there willing to buy it for you. The Chiisaki Tayiou edition will only be available however if you purchase from E-Capcom itself. This full package will run any buyer ¥8,000 while the game itself will cost ¥5,040.
Full Details about the package:
This box has been designed in the image of the treasure boxes that appear in the game.
Chibiterasu Stuffed Animal Key Holder
A keyholder with a fluffy 10 cm Chibiterasu . You can attach this to your backpack or purse thanks to the ball chain at top.
Okamiden: Kuninushi no Kioku to Fujimi no Yokai
This is an original book written by Okamiden scenario writer Yukinori Kitajima and with images from Yuu Satsuki. The name translates to something along the lines of "Okamiden: Kuninushi's Memory and the Immortal Ghoul."
Chibiterasu Original Design Earphones
Special earphones with Chibiterasu's paws on the buds and Chibiterasu's face on the cord slider.
Okamiden: Sound and Light Treasure Box
Includes a CD soundtrack with six BGMs from the game and a DVD with promotional videos. Of the songs, three are arranged for acoustic guitar. The remaining three have been arranged more elaborately from their original versions.
Personally I am loving the key-chain Chibiterasu, the special earphones, and the box that the whole package would come in. Unfortunately the whole fact that you must be in Japan to purchase it is a bit of a let down. Though this brings us hope that eventually when the game is released internationally there will be an even better collector's edition released, or one similar to this one.