The internet is afire with the rumour of a possible Halo 4 being in development at 343 Industries after the leaking of a designers resume.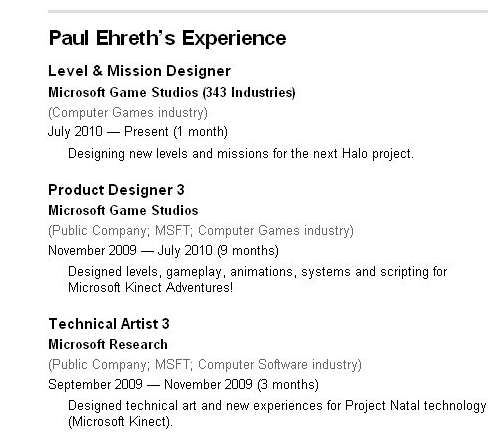 On the first of July this year Microsoft posted 15 new job positions for what we all assumed would be a new Halo project of some sort, of which there are now 25 positions posted for application.
It seems that one Paul Ehreth got one of these jobs, and that the next big project at 343 is Halo related as the excerpt from his resume has indeed outed the fact that development on a new Halo project has begun.
Ehreth is a former Sony Online Entertainment employee and has worked for Microsoft Games Studios since 2009 and has been 'designing new levels and missions for the next Halo project' at 343 since the beginning of July.
Bungie recently revealed that it contemplated continuing Master Chief's saga with a full-blown Halo 4 before it came to the decision to do prequel Halo Reach:
"Even before the idea to build a game based around Reach came about, a lot of other concepts were explored, up to and including a proper 'Halo 4,' where Master Chief was going to wake up from cryo-sleep and we were going to tell that story," community boss Brian Jarrard commented.
But, Brain continued that plan was ditched because, "It just wasn't as interesting to the team to just pick up where that left off and all the baggage that came with it."
So at this stage it's anyone's guess as to just what exactly, within the Halo Universe, is being tinkered on within 343 Industries.