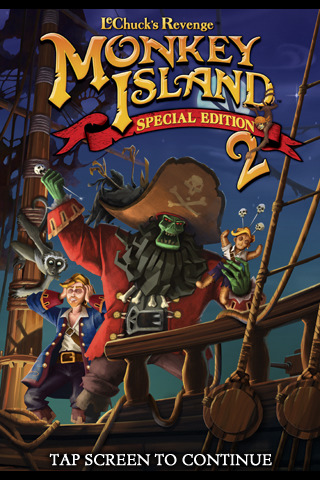 You may want to watch your iPhones and iPads from now on because Pirates may make their way onto it. That is only if you let them of course. And the best way to do that is to pick up Monkey Island 2: LeChuck's Revenge which is now available for both the iPhone/iTouch and the iPad.
You can take Guybrush Threepwood through every detail of the old game, you can even choose to play between the old school graphics and those the brand new enhanced graphics. There is even a voice over believe it or not, so you can listen to everything that is happening in full detail.
But what if you don't like point and click adventures due to the fact that the puzzles can sometimes stop your gameplay dead if you do not know how to figure them out? Well there is no worry about that with LeChuck because it also comes with a built in Hint system that you can access whenever you feel like you need a little help.
Monkey Island 2: LeChuck's Revenge is now available for the iPhone/iTouch at $7.99. Plus the iPad for $14.99.