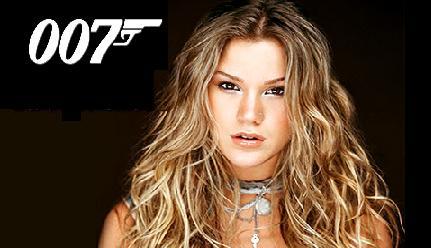 If there is one thing that goes with the James Bond video game series, it's music. With big names of the past such as Mya and Natasha Bedingfield,  Activision's newest title "James Bond 007: Blood Stone" now will feature artist Joss Stone taking on the role of the newest Bond Girl. As well as being cast in this fast-paced new title, Joss Stone will also provide an original musical track to the game, titled "I'll Take it All" written and performed by her and Dave Stewart of the Eurythmics exclusively in James Bond 007: Blood Stone.
James Bond 007: Blood Stone also features the likeness and voice talent of Daniel Craig, Joss Stone, and Jundy Dench. Players will travel through exotic locations to unravel an international conspiracy, using the trademark high-tech gadgetry the 007 series is known for.
"James Bond 007: Blood Stone captures the cinematic intensity of a Bond film by immersing players in an intriguing conspiracy that will require them to think and act like James Bond," said David Pokress, Head of Marketing for Licensed Properties, Activision Publishing. "In addition, the game will feature a diverse array of multi-player modes and debut strategic objective-based gameplay that will allow Xbox 360, PS3 and PC players to battle as teams of spies and mercenaries through authentic Bond locales."
A brand new original story written by famed screenwriter Bruce Feirstein will put gamers in full control of cover-based firefights, hand to hand combat and adrenaline-fuelled driving sequences as they embark on a global chase leading to action on land and sea through Athens, Istanbul, Monaco and Bangkok. Gamers can also feel what it is like to be a 00 agent, as they take the battle online in several robust 16-person multi-player modes that require skill, teamwork and strategy as players compete in matches that will have spies battling mercenaries.
Developer Bizarre Creations are bringing out James 007: Blood Stone this holiday season for the Xbox 360, Playstation 3, and Windows PC. Additionally, a Nintendo DS version will release developed by EON Productions Ltd. Eager gamers can go to www.007.com for more information about this hot new title.