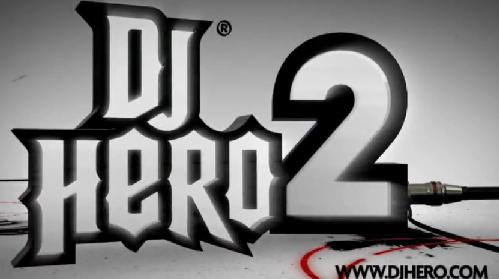 The first DJ Hero had a lot of everything mixed in when it came to music so all music fans could find a track they enjoyed and be satisfied. The series has stepped it up even more with the newest list of artists released today.
Activision has released this statement:
"With the success of DJ Hero and overwhelming response to its soundtrack, we are excited to be working even more closely with our label partners, including Interscope Geffen A&M, on DJ Hero 2 to hand-pick the best music from the most recognizable artists in the world," said Tim Riley, Vice President of Music Affairs, Activision.
"We're excited to bring the hottest hits from our biggest artists to DJ Hero 2 including Eminem, Lady Gaga, Soulja Boy, 50 Cent, M.I.A., Timbaland, Yeah Yeah Yeahs, and many more," said Steve Berman, Vice Chairman, Interscope Geffen A&M. "The blockbuster lineup of music we've contributed, when mixed by world renowned DJs exclusively for the game, will help deliver one of the best soundtracks in all of entertainment."
Artists confirmed are as follows:
2Pac
50 Cent
Adamski
Afrika Bambaataa & The Soul Sonic Force
Armand Van Helden
A-Trak
B.o.B.
Basement Jaxx
BlakRoc
Bobby Womack
Bruno Mars
Busta Rhymes
Calvin Harris
Chamillionaire
Chic
Chris Willis
Clinton Sparks
Colby O'Donis
Daft Punk
Damian Marley
David Guetta
Deadmau5
Deee-Lite
Dillinja
Diplo
Dizzee Rascal
DJ Shadow
Donna Summer
Dr. Dre
Drake
Edwin Starr
Eminem
Estelle
Flo Rida
Gorillaz
Grandmaster Flash & The Furious Five
Harold Faltermeyer
House Of Pain
Iyaz
Jackson 5
Janet Jackson
Justice
Kanye West
Kaskade
Kelis
Keri Hilson
Kid Cudi
Kool & The Gang
Lady Gaga
Lil Jon
Lil Wayne
LL Cool J
M.I.A.
M|A|R|R|S
Major Lazer
Malcolm McLaren
Mase
Melle Mel & Duke Bootee
Metallica
Missy Elliott
Mos Def
MSTRKRFT
N.O.R.E.
Nas
Nate Dogg
Naughty By Nature
Nelly
New Boyz
New Order
Newcleus
Nightcrawlers
Orbital
Pharoahe Monch
Pirate Soundsystem
Pitbull
Puff Daddy
Pussycat Dolls
Rihanna
Robin S.
RZA
Salt N Pepa
Sam Cooke
Sam Sparro
Sean Paul
Skibadee
Sneaky Sound System
Snoop Dogg
Snow
Soulja Boy Tell Em
Sparfunk & D-Code
Static Major
Stevie Wonder
Talib Kweli
The Chemical Brothers
The Crystal Method
The Egg
The Notorious B.I.G.
The Prodigy
Tiësto
Tiga
Timbaland
Tweet
Walter Murphy
Warren G
Wayne Smith
Will.I.Am
Yeah Yeah Yeahs
Young Jeezy
Just looking at the list I see many artists that will really get fans excited to mix with. DJ Hero 2 promises to offer DJ battles and on spot singing, so a friend can step in to the mic and sing or rap with the track with the jump out/jump in party play. The game also has 80 exclusive creations just for the game. DJ Hero 2 Hits the 360, Wii, and PS3 later this year. Trailer is below and you can check out www.djhero.com for more information.