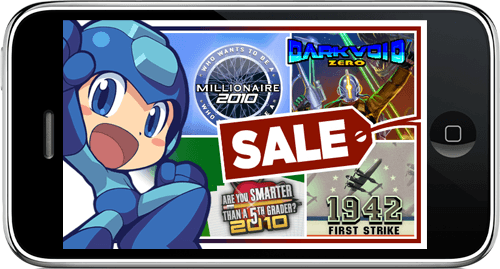 Capcom has reduced the prices on 3 awesome games, and then 2 less awesome ones for the Iphone. Someone will probably like the last 2, but the first 3 are what I'm looking at. MasterAbbott already dropped his pocket change into 1942: Joint Strike and Dark Void Zero. Check out the blog post below, and then go download the games at the links below the blog post.

We've dropped the price on five of our most popular iPhone games in celebration of the awesomeness that is Comic Con. For a limited time get 1942: Joint Strike, Mega Man II, Dark Void Zero, Are You Smarter Than A 5TH Grader? 2010 and Who Wants To Be A Millionaire 2010 for $.99 each.  That's a lot of gaming for only a few bucks.
Click the game you want to download.
Are You Smarter Than A 5TH Grader? 2010