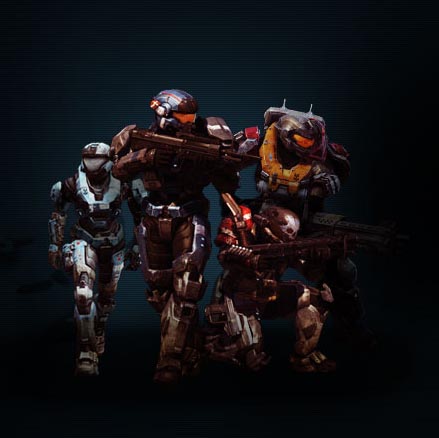 GOT WHAT IT TAKES?
LEAD A CELEBRITY ELITE SPARTAN SQUAD TO GLORY
Halo fans in the UK will be shooting for the chance to take their place in an Elite Celebrity Spartan Squad.
Launching in less than seven weeks, Halo: Reach, is set to be the BIGGEST entertainment launch of 2010, and will be available exclusively on Xbox 360. The award-winning 'Halo' franchise is a global phenomenon, with Halo 3 making entertainment history in 2007 setting launch sales records that beat all previous video games and blockbuster movies.
Created by acclaimed developer Bungie, Halo: Reach is the latest installment to the most successful gaming franchise ever, and is set to launch on 14 September. More than 2.7 million players participated in the Halo: Reach multiplayer beta earlier this year, making it the most popular console video game beta test on record.
To celebrate the upcoming launch of Halo: Reach, football legend Rio Ferdinand and Gadget Show presenter, Jason Bradbury teamed up today to announce the launch of a major nationwide competition and the Halo: Reach Elite Spartan Squad at a press conference in London. The competition, launching next Wednesday 4th August, gives Halo fans and gamers the chance to take part in a series of online mini Halo 3 tournaments in mid-August. Winners will then be selected to attend a mega-launch event taking place in London in mid-September. This is a once-in-a-lifetime chance to be a part of the most exciting live Halo battle in gaming history – all with the special Celebrity Elite Spartan Squad!
As well as Rio and Jason the Halo: Reach Elite Spartan Squad includes a star studded line-up, including: Gorgeous model and T4 presenter, Jameela Jamil; and England Rugby star, Ben Cohen. The 5th Spartan member will be revealed next week and the 6th Spartan member will be chosen via the competition and will be the Team Captain ensuring the Elite Spartan Squad is charged and ready to battle at the launch event!
Information on ow to enter the competition will be made available HERE on Wednesday 4th August.