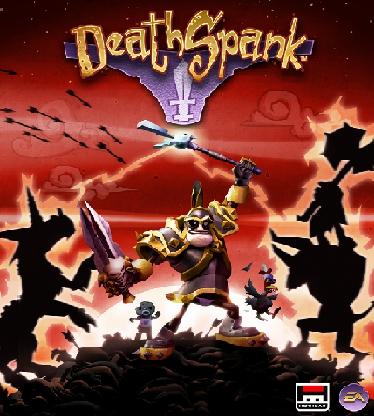 In recent years, Action RPGs have been a huge market in the industry. July marks the release of EA and Hothead Games (Swarm, Penny Arcade Adventures) newest release, Deathspank. Deathspank is no ordinary, run of the mill Action RPG though, as it blends comedy with gameplay to create one hilariously epic journey.
You play as Deathspank, the "Dispenser of Justice", "Vanquisher of Evil" and "Hero to the Downtrodden". His destiny? To track down the mysterious artifact simply known as "The Artifact". Deathspank features local co-op game-play, where you and a friend can take control of Deathspank and his loyal sidekick, Sparkles the Wizard. Sparkle's magic abilities will become the perfect balance with Deathspank's weapon based attacks to crush minions and battle all of the unique world's injustice.
Weapons of course are one of the biggest features in Deathspank. Players can take control of the Chicken Cannon, the Demon Poop Hammer, and many more off the wall weapons that are sure to be strike pure fear and odor into any creature that stands in his presence.
Along the way DeathSpank and Sparkles will rescue some orphans, defeat a local tyrant, help an aging adventurer, and dive headlong into an even deeper mystery in an epic action RPG that includes collecting loot, solving crazy puzzles, witty dialogue, collecting loot, a ton of weapons, fun and accessible action, and of course, collecting loot.
Deathspank will be on the Xbox Live Arcade for 1200 points and on the PSN for $14.99. The XBLA version will be released on July 14th and PSN a day earlier on July 13th. Buy it and have your console considered Elite (or even more ELITE! for you 360 owners) and worthy of the Master of all Heroes!